B&B Contracting Group is one of the leading Civil Contractors in the Lower Mainland.

Site Preperation
B&B provides all aspects of site preparation services for multiple types of projects

Excavation
We're capable of handling excavation & shoring projects of any size
Railways
We've completed many railway projects throughout the Lower Mainland
Contact B&B Contracting Today!
B&B Contracting Group – Services
The B&B Contracting Group offers clients the full range of Civil Contracting services.

Contact us today to schedule your upcoming civil contracting project.
SITE PREPARATION
B&B provides all aspects of site preparation services for subdivisions, townhomes, commercial developments, infrastructure, and municipal projects. B&B provides the following site preparation services:
Excavation
&
ground preparation
UPCOMING PROJECT INVOLVING SITE PREPARATION?
B&B is an industry leader in underground utilities and servicing in all aspects of pipe installation, dealing in storm sewer, sanitary sewer, sanitary forcemain, watermain, hydro, telecommunications, and gas main installations. B&B provides the following underground utility services:
Storm and sanitary gravity mains
Sanitary force mains
Water mains and service laterals
Pump stations
Storage chambers
Various poured-in-place or pre-cast structures
Streetlighting
Hydro civil works
Telecommunications civil works
Gas main installations
UPCOMING PROJECT REQUIRING SITE SERVICES?
B&B constructs municipal roadways and highways to MMCD and MoTI standards with the intent of improving and expanding upon our ever-growing infrastructure. B&B performs the following works on our roadwork projects:
Excavation
Grading
Hard and soft landscaping
Aggregate supply and placement
Streetlighting
Asphalt paving
Gas main installations
Traffic signalization
Concrete flatwork such as sidewalks, curbs and gutters, and stamped concrete
UPCOMING ROADWORK PROJECT?
B&B is capable of handling excavation and shoring projects of any size with our robust fleet of heavy equipment and highly skilled construction team. B&B provides detailed excavations and backfill for pad footings, strip footings, and core footings. B&B also provides detailed mechanical excavation and backfill for mechanical trenching and fixtures, as well as the supply and placement of slab gravels and slab preparation.
B&B specializes in all phases of site development and has extensive experience with even the most challenging ground conditions. As development continues to expand in the Lower Mainland, prime development sites are now few and far between. As such we are left with a higher proportion of development sites with challenging ground conditions. B&B is highly capable of dealing with these sensitive sites, and our in-house dump sites allow us to dispose of these sensitive soils in a cost-effective, appropriate, and environmentally conscious manner.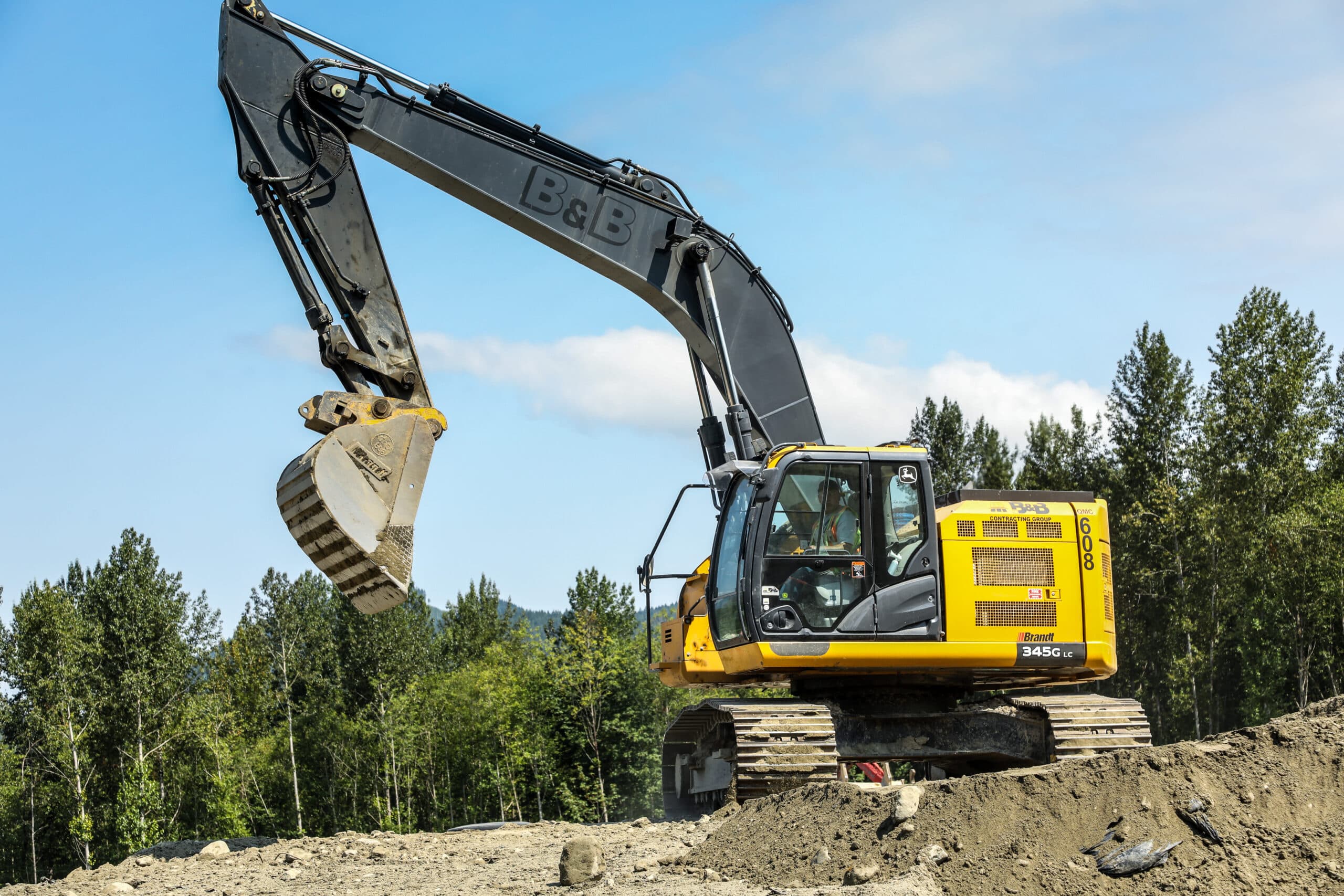 B&B PROVIDES THE FOLLOWING
EXCAVATION & SHORING SERVICES:
Bulk excavation

Detailed excavation

Slab preparation

Shoring
UPCOMING EXCAVATION & SHORING PROJECT?
B&B's civil expertise extends to all types of retaining wall construction. Our retaining walls can be viewed in various locations across the Lower Mainland and range from large profile MSE retaining walls to smaller profile Allan Block walls. During the course of construction, Quality Assurance and Quality Control are performed by both B&B and the Geotechnical Engineer, with the Geotechnical Engineer ultimately signing off once the wall construction is complete.
B&B BUILDS THE FOLLOWING TYPES OF RETAINING WALLS:
Mechanically Stabilized Earth (MSE) retaining walls

Decorative shotcrete walls

Gabion walls

SierraScape walls

Lock Block walls

Allan Block walls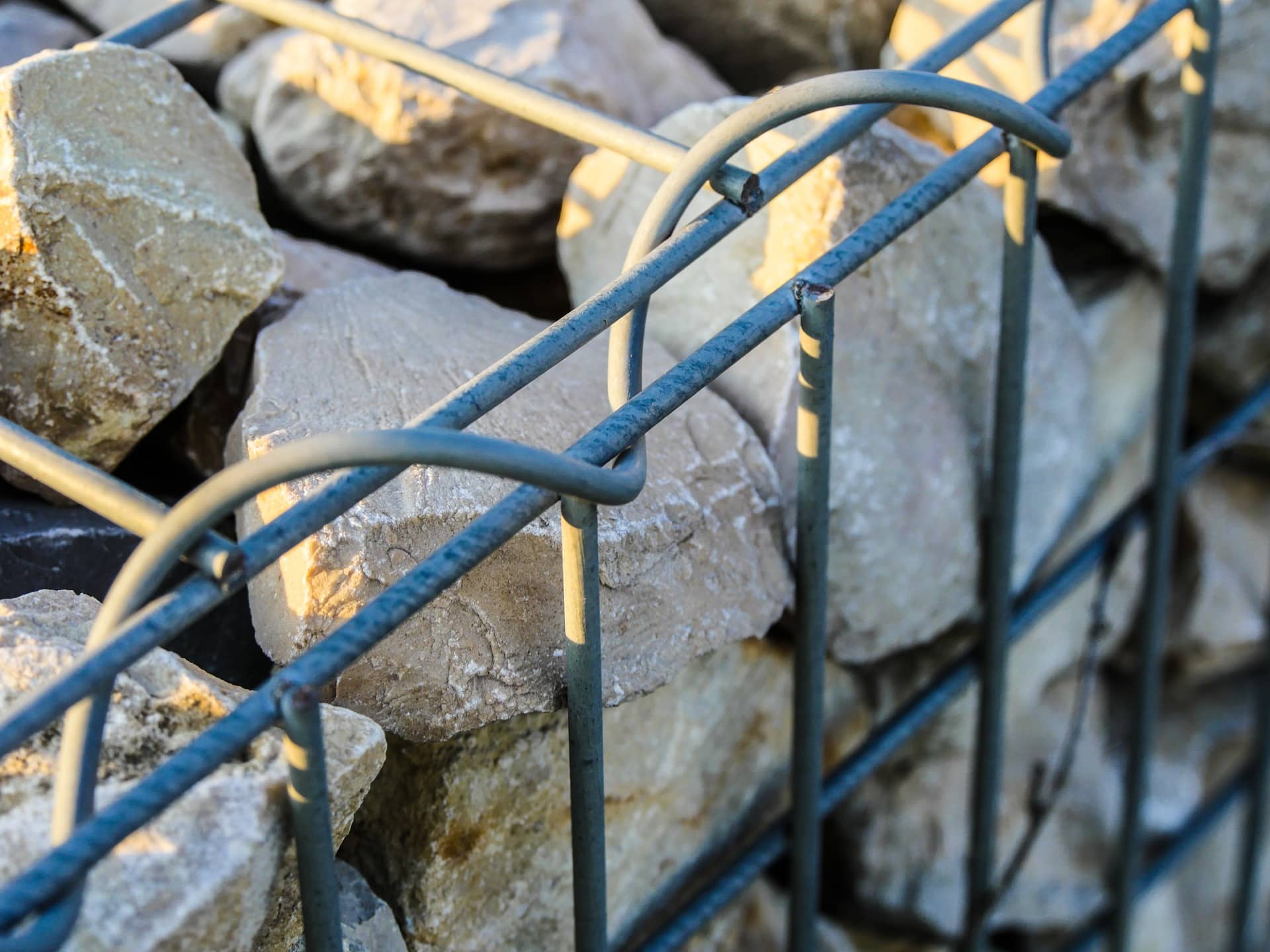 UPCOMING RETAINING WALL PROJECT?
Throughout our 70 years in construction, B&B has completed numerous railway projects to the satisfaction of all stakeholders involved and has handled even the most difficult civil components of railway projects throughout the Lower Mainland. Whether the project involves extremely steep grades or coordinating work on or near active railway corridors, B&B's experienced staff are up to the task. We know the importance of maintaining strict safety standards when working on railway projects while also preventing any delays to freight trains passing through.
B&B HAS EXTENSIVE EXPERIENCE WORKING ON THE FOLLOWING RAILWAY PROJECTS:
Active railway corridors

Right-of-way

Installation of casing under railways

Widening railway siding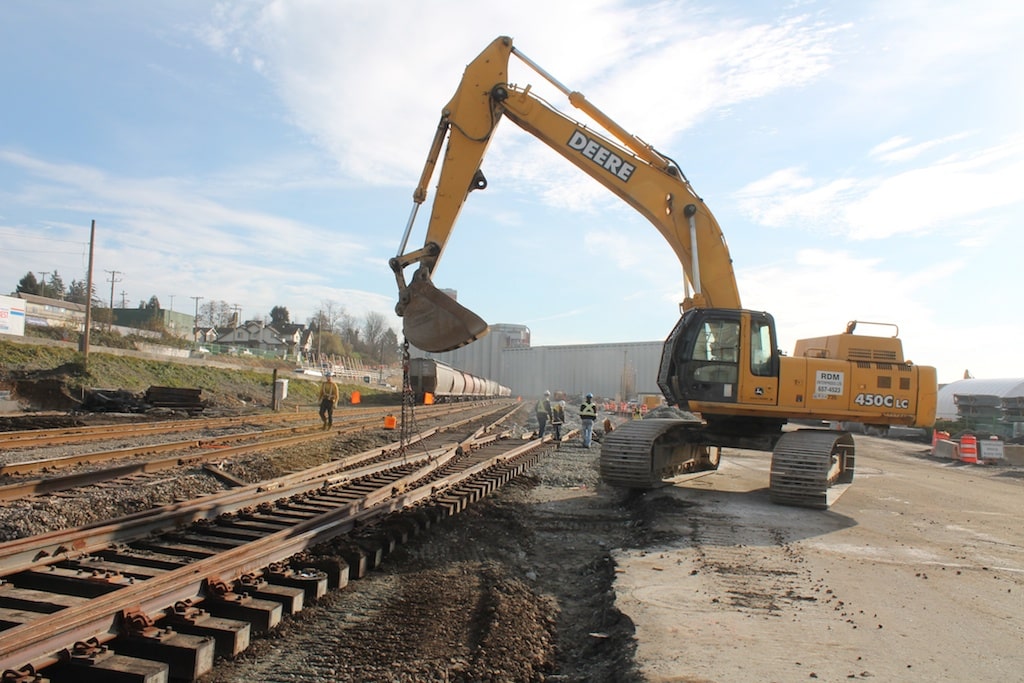 UPCOMING RAILWAY PROJECT?